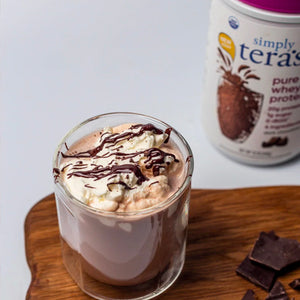 Ingredients For the peanut butter whipped cream: 1 can of full-fat coconut milk, refrigerated overnight (or at least 1 hour) 1 tablespoon peanut butter 1 teaspoon of sweetener of choice (optional) For the hot chocolate: 1 - 1 1/4 cup almond milk (depending on size of your cup) 1/2 scoop simply tera's pure whey protein, dark chocolate 1 tablespoon cocoa powder 1-2 tablespoons agave syrup  For the chocolate drizzle: Chocolate for melting  Instructions For the whipped cream: Make this no more than 30 minutes before serving hot chocolate for best results. Chill the mixing bowl and the beaters that you...
---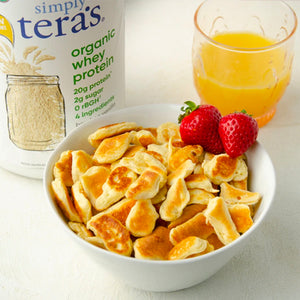 Ingredients 1 scoop simply tera's organic bourbon v anilla whey protein 1 banana 150g oats 50ml milk 1 egg + 2 egg whites 1 tsp. baking powder 1 tsp. cinnamon A pinch of sea salt Plant-based milk of choice Instructions First, mix the pancake ingredients together in a blender or food processor. Then heat a non-stick frying on a low heat and carefully add a teaspoon of your mixture to the pan. Repeat this so that you have several mini pancakes cooking at once (you will need to cook your pancakes in multiple batches to use up all of your mix). Alternatively, cook...
---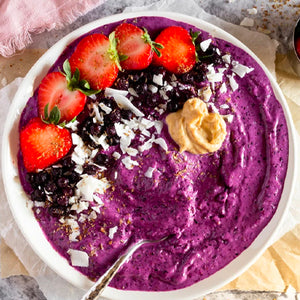 Ingredients 1 cup mixed frozen berries 1–2 tablespoons all-natural peanut butter 2 scoops simply tera's organic bourbon vanilla protein 2 tablespoons rolled oats 1 cup milk, any kind Instructions Place all ingredients in a blender and mix until smooth.